ADULT LEARNING CONCENTRATION
OUR MISSION
We believe that adult learning is fundamental to individual, professional, and social development.  It comprises both explicit and implicit processes that are based in experience and interactions between individuals and their environments. Optimal adult learning is supported through attention to individual attributes, key cognitive processes, and and contexts in which individuals learn.  Our mission is to graduate scholar-practitioners, researchers, and leaders who have the knowledge, skills, and values to support adult learning at individual, community, organizational, and policy levels.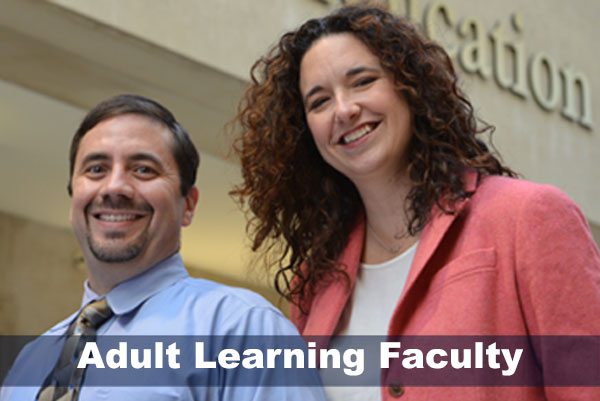 OUR GOALS
The Adult Learning Concentration in the Learning, Leadership, and Education Policy (LLEP) Ph.D. prepares individuals to:
Identify issues that impact adult learning across a variety of contexts
Critically examine important questions in the field using rigorous research methodologies and methods
Construct theoretical models based on sound empirical research to guide practice and policy
Lead organizations in assessing and meeting learning needs of individual adults, organizations, and communities
Design supportive learning environments and systems
Facilitate learning activities to optimize adult learning
Apply lenses of social justice and organizational change to work in and with complex organizations
SAMPLE PLAN OF STUDY
The Adult Learning Concentration Plan of Study includes 18 credits of core coursework, 9 or more credits in area of concentration, 9 or more credits in research design and methods, 15 credits of Doctoral Dissertation preparation credits, completion of a general examination, approval of the research proposal, and successful dissertation defense.
LLEP Core Courses (15 credits)
EDLR 5201 — Influences on Adult Learning (Fall Year 1)
EDLR 5204 — Organizational Learning (Spring Year 1)
EDLR 6313 — Educational Policy and Politics (Fall Year 2)
EDLR 6467 — Social Justice Leadership, Equity, and Change (Spring Year 2)
EDLR 6050 — Proposal Development I (after passing general examination)
Adult Learning Concentration Courses (9 credits minimum)
Tract One courses focus on the Individual Learner. Examples of courses in this tract include:
COMM 5101 Motivation
EDLR 5202 Workplace Learning
HDFS 5215 Models and Concepts of Lifespan Human Development
PSYC 5251 Neural Foundations of Learning and Memory
PSYC 5567 Cognition
Tract Two courses focus on Designing Learning Environments. Examples of courses in this tract include:
EPSY 5220 Introduction to Educational Technology 
EPSY 5520 Instructional Design
EPSY 5530 Theories of Learning, Cognition, and Instruction
PP 5319 Program Development and Evaluation
COMM 5650 Communication Technology and Society
Research Courses (9 credits minimum)
EPSY 6601 Methods and Techniques of Educational Research
EDCI 6000 — Qualitative Methods of Educational Research (Fall or Spring)
EDLR 6052 — Qualitative Methods of Educational Research II (Spring)
EDCI 6005 — Advanced Methods of Qualitative Research
EPSY 5605 — Quantitative Methods in Research I (Fall and Spring)
EPSY 5607 — Quantitative Methods in Research II (Spring)
Other research courses as needed
Graduate School Required Doctoral Dissertation Research credits (15 credits minimum)
GRAD 6950 — Doctoral Dissertation Research
CAREERS
As a field of study Adult Learning is unique in that it offers opportunities to develop knowledge, skills, and values that you can apply to any other academic discipline, profession, or career. Adult Learning can lead you to new professional horizons or enable you to excel in your current career.
Our students come from diverse backgrounds in terms of personal and professional experience, academic training, and career goals. They have in common, however, a desire to meet the needs of adult learners and create conditions that optimize learning based on current research and theory in the field.
A great way to appreciate the career opportunities in Adult Learning is to explore what graduates and current students from our program "do for a living." Among the ranks of our graduates and students are professors and administrators in public universities, private colleges, and community colleges; as well as educational technology specialists, ESL/EFL instructors, and community and cooperative extension educators. Manufacturing executives, human resource development administrators, and corporate trainers have graduated from our program, as well as executive coaches and consultants. Students and graduates also represent a variety of health care fields. They include physicians, nurses, social workers, and allied health therapists.
Graduates of our Master's program in Adult Learning often become leaders in their organizations for planning, design, delivery, and assessment of learning programs. Graduates of our Adult Learning concentration in the Learning, Leadership, and Education Policy Ph.D. program influence change across organizations and disciplines through administrative leadership, research, policy, and advocacy.